Crosstex is a recognized leader for its portfolio of waterline treatment, biological monitoring, sterility assurance packaging and personal protection equipment (PPE). Sold in more than 100 countries, the range of products distributed to medical, dental, industrial and veterinary practices and facilities include our award winning (5 consecutive years) Secure Fit® technology face masks, DentaPure waterline treatment cartridges, Sure-Check® sterilization pouches with internal/external multi-parame
CROSSTEX
A division of Cantel Medical, Crosstex manufactures a wide array of unique and innovative infection prevention and compliance products for the global healthcare industry.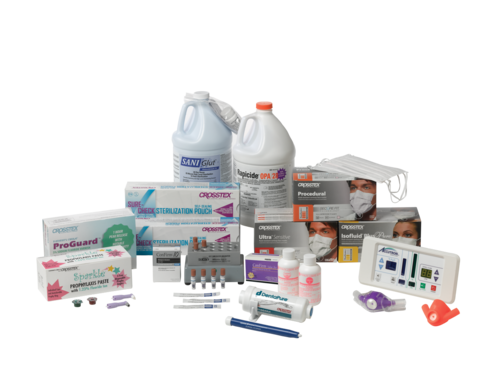 Founded in 1953 and headquartered in Hauppauge, NY, Crosstex is a recognized leader for its portfolio of waterline treatment, biological monitoring, sterility assurance packaging and personal protection equipment (PPE). Sold in more than 100 countries, the range of products distributed to medical, dental, industrial and veterinary practices and facilities include our award winning (5 consecutive years) Secure Fit® technology face masks, DentaPure waterline treatment cartridges, Sure-Check® sterilization pouches with internal/external multi-parameter indicators, Tyvek® pouches with 510K approval, SteamPlus™ Type 5 chemical integrators, ConFirm® and Passport® Plus in-office and mail-in biological indicators, Rapicide® OPA/28 high level disinfectant.
Most recently, Crosstex acquired Accutron Inc., the market leader in conscious sedation equipment and single-use nasal masks, located in Phoenix, AZ.
For more information, please visit www.crosstex.com.
KEY PRODUCT LINES
CROSSTEX FACEMASKS
Crosstex provides one of the broadest and most in-depth selections of FDA approved surgical face masks. The company has revolutionized the product by combining scientific evidence in the manufacturing of face masks. MaskEnomics® is Crosstex's exclusive filtration guide that makes it easy for face mask wearers to select different levels of filtration based on the procedure being performed. Not all masks are suitable for each situation and/or environment - which is why the company created a guide that educates the healthcare industry about the differences in face masks and enables wearers to select the appropriate mask for the task.
Crosstex recently introduced a new line of masks, utilizing its patent pending new technology called Secure Fit. This innovative face mask is a vast improvement over the traditional flat-paneled, earloop face mask. Secure Fit masks can be custom fit for any size or shape face. Developed from extensive research at Stony Brook University Hospital, Secure Fit face masks provide up to 100 fold greater reduction of exposure to infectious particulates by eliminating gapping at the bottom and sides of the mask.
BIOLOGICAL MONITORING
To complement Sure-Check pouches, Crosstex recently acquired the biological monitoring business of ConFirm Monitoring, thus enabling the company to provide a complete Sterility Assurance program by offering either an in-office or mail-in third party monitoring service.